Luxury Vinyl Tile in Wenatchee, WA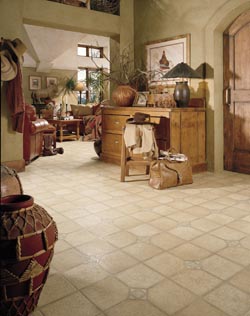 Create a modern new look in your home or business by choosing from our vast array of options for luxury vinyl tile in Wenatchee, WA. When you need fresh new floors that aren't faded and cracked, our affordable selection of vinyl flooring is the solution.
Eliminate the guesswork involved in finding the right type of vinyl tile for your home with the help of our knowledgeable design specialists. We listen to your needs and match you with the flooring that best fits your needs in looks, performance, and price. If you have an active household with kids and pets, our team finds an easy-care luxury vinyl plank or tile flooring most capable of withstanding any scrapes, dents, or stains.
Resilient Flooring That Stands the Test of Time
You don't have to sacrifice the style and sophistication you want in exchange for the type of flooring that best fits your lifestyle. We have a full line of resilient flooring options that maintain a stunning look for years to come.
Invest in flooring that is durable and attractive as well. Your kitchen and bathrooms are the most used rooms in your home, so upgrade with stunning, strong flooring that highlights your interior décor as well. Bring in your design plan and let us recommend a list of options for you.
Benefits of Luxury Vinyl Floor Tile
Experience the difference that luxury vinyl floor tile can make in your home. This flooring is not only easy to clean, it also helps dampen the noise in any room. With advanced printing techniques, these floors mimic both hardwoods and natural stone. Since luxury vinyl is so thick, it is possible to mimic the look of a wide array of textures that show the grain patterns and finishes as well.
Despite being highly durable, repairs are easier with luxury vinyl tile as you only need to replace the one damaged tile. Create a look that matches any design plan, and do it for less with the help of this versatile flooring option.
Luxury Plank Flooring for an Affordable Hardwood Look
Enhance the resale value of your home with luxury plank flooring that looks as good as hardwood. Since this flooring won't expand and contract like traditional wood, it makes a perfect accent to rooms like your bathroom and kitchen.
Our plank flooring is made to last, and delivers a warm and inviting look for any room it is placed in. This innovative product helps you create the style you've always wanted at a cost-effective price and easy maintenance.
Professional Luxury Vinyl Tile Installation
Get the right fit with the help of our trained luxury vinyl tile installation team. When you rely on the knowledge and experience that our installation specialists provide, you are protecting your investment in both looks and longevity.
We are completely committed to your satisfaction, and we help you get the most of your flooring investment. Ask about our Ultimate Guarantee, which provides lifetime guarantees on installations if they are not 100 percent satisfactory.


Contact us today for a free estimate on our selection of luxury vinyl tile that is perfect for any room in your home. We proudly serve customers in Wenatchee, East Wenatchee, Chelan, Cashmere, and Leavenworth, Washington, and surrounding areas.