Hardwood Flooring in Wenatchee, WA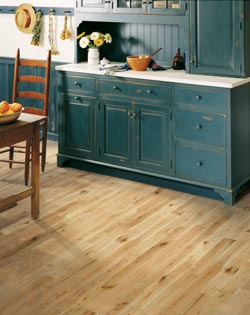 Improve the look and value of your home with brand new hardwood flooring in Wenatchee, WA. We offer a wide selection for you to choose from at our flooring showroom. Imagine the stunning look of real wood grain lining the floors throughout your house. There's no limit to the styles you can discover at our store. We even carry handscraped hardwood, which many customers seek out for its outstanding beauty.
Our trained specialists are ready to answer any questions you may have about your options. We have so many renowned brands, you're sure to find the perfect hardwood floors for your home. Check out our selection of Downs™ when you want to add a classic look to any room. Its bold appeal instantly stands out from the crowd. For customers searching for timeless elegance, we carry Bedford Mills™. It combines decades of skilled craftsmanship with classic style to produce stunning planks. After you select the perfect set, depend on our hardwood flooring installation for a seamless finish.
Hardwood Floors Backed by a Locally Owned Store
Your satisfaction is always our number one goal. We only stock the best hardwood flooring at our locally owned store. Our entire team focuses on delivering an exceptional buying experience for each and every customer. Whether you're looking to refresh your home or want to redecorate everything, start with the solid investment of hardwood floors.
Choose Engineered Hardwood for Beauty and Durability
Give yourself a break and choose hardwood floors for your home. Many of our customers choose hardwood because it's built to last. For those looking for extremely durable floors, we suggest engineered hardwood. It is designed with heavy foot traffic in mind while maintaining the exceptional beauty of the wood. The planks are made from several layers bonded together for maximum strength. They stand up to most bumps and scrapes, which is why we recommend it for families with young children or lots of pets.
Engineered hardwood is truly a floor you don't have to worry about. Temperature and moisture changes don't warp or buckle it. It's perfect for any room, including kitchens and basements. Best of all, cleaning is simple and easy. Just follow the manufacturer's care instructions when it's time to clean up. Because wood doesn't absorb dust, hair, and other particles, those with allergies love it.
Instantly Add Value to Your Home with Solid Harwood
When you want a stunning floor that lasts for decades, pick one of our outstanding options of solid hardwood. As its name suggests, the panels are made of a single piece of wood. Combined with our industry-leading warranties, these pieces last you a very long time. The floor ages gracefully over the years, giving you a lived-in look that remains stunning.
When it does come time to spruce them up, solid hardwood gives you the options to strip and refinish the surface. You can sand, buff, and varnish your floor multiple times over the years. This lets you maintain its gorgeous look. Many of our customers seek out solid hardwood because they can stain it different colors whenever they want to. Start your next recording project with versatile and luxurious hardwood floors.
Gain Unparalleled Beauty with Handscraped Hardwood
Our selection of handscraped hardwood is always a popular pick. The planks feature unique textures that give any room a lived-in personality. You'll love the warm and inviting feel they bring to your home. Without decreasing its durability or longevity, our flooring manufacturers add handscraped textures to bring out the full beauty of the wood. This process makes your floors even more elegant while keeping their ease of maintenance. When you choose handscraped hardwood, your floors are sure to stay in style throughout their entire life.
Exceptional Hardwood Flooring Installation
Once you pick out the perfect set of planks, we offer hardwood flooring installation you can count on. Our team ensures that your new floor lasts for years to come. We pay attention to the details from start to finish, meaning we don't leave misaligned panels or ugly bumps. Because our team is so experienced, we are ready for any project, no matter how big or small it is. You won't want to wait to host a party or event once you see your new hardwood flooring.

Contact us to learn more about our great selection of hardwood flooring. We proudly serve the communities of Wenatchee, East Wenatchee, Chelan, Cashmere, and Leavenworth, Washington.