Laminate Flooring in Wenatchee, WA
Update your home's floors the right way with The Floor Factory's quality and cost-efficient laminate flooring. Stylish, affordable, and built to last, imagine how impressed your guests will be when they stand upon your immaculate and stunning floors. Whatever your needs, our flooring specialists stand ready to answer your questions and find the best laminate flooring option for you. From design to installation, The Floor Factory will help you every step of the way!
Are you ready to turn your property into a place you can be proud of? With our wide range of flooring style selections, you have many options to choose from, such as laminate wood flooring or laminate tile flooring. Visit our Wenatchee, WA showroom to see our gorgeous selections of laminate flooring!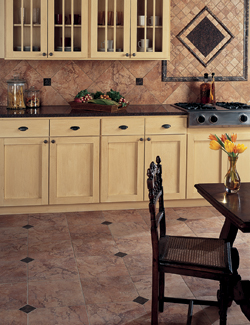 Types of Laminate Flooring
Built to last in any room, laminate flooring is manufactured using the same durable layering technique. However, any style and pattern can be achieved to mimic both tile and wood flooring. Discover each type of laminate flooring and its use:
Laminate Wood Flooring - Bring a touch of charm to any room in your home with our stylish laminate wood flooring. This gorgeous material is an excellent choice if you want to give your space the texturized look of wood floors while staying under budget. Available in a variety of wood-look colors, species, and grains, we carry the perfect floor covering to match your room's particular theme. From light to dark shades, our diverse inventory of laminate wood flooring is sure to have the style you envision for your home.
Laminate Tile Flooring - Give your bathroom or kitchen an immediate facelift when you hire us to install new laminate tile flooring. These well-made coverings are designed to resist moisture and provide a safe and clean surface for your feet to walk on. Enjoy the feeling of a smooth surface under your toes when you step out of the shower. In addition to bringing you a sturdy and comforting foundation, our laminate tile material also looks stylish. With beautiful color schemes and unique patterns, this flooring can raise your space to a new level of elegance.
Why Choose Laminate Floors?
If you plan on giving your house a complete makeover, our laminate floors serve as a highly affordable flooring option that will allow you to put more money toward your other renovation goals. Our available styles include tile and wood designs with leading brands including Mannington, Floorcraft, Audacity, Quickstep, HomeCraft, Mohawk, Pergo, Shaw, and Armstrong. Besides its beauty, laminate's true benefits lie in its durability, ease of maintenance, and oops-proof resistance to spills and scratches.
This flooring option consists of four strategic layers for optimal surface protection:
The Wear Layer

- This clear top layer protects the design layer from scratches and offers a waterproof seal.

The Design Layer

- Pick your favorite wood-look or tile-look with the photo design layer.

The Core Layer

- A resilient core layer brings a secure feeling underfoot. Often composed of wood byproducts, the core layer absorbs sound and keeps in heat.

The Back Layer

- The water-resistant bottom layer brings stability to the overall board while protecting both the subfloor and the laminate flooring.
How to Clean and Maintain Laminate Floors
Crafted to be resistant to scratches and spills, laminate requires simple care to keep your floors sparkling. Always ask one of our flooring specialists or refer to our laminate flooring maintenance guide before using any harsh cleaning products on your floors. To care for your laminate flooring, follow these easy steps:
Vacuum or sweep regularly

Use a dust mop or damp cotton cloth for light spills

Use a recommended laminate floor cleaner for any heavier messes

Steer clear of scratches by trimming your pets' nails, avoiding high-heeled shoes, and adding felt pads to moveable furniture
Professional Laminate Flooring Installation
Proper installation is key to stable flooring that lasts for many years to come. By hiring our experienced team, can rest assured your laminate floors are installed correctly. The Floor Factory strongly believes that we bring value to each customer, which is why we back our installation services with our Ultimate Confidence Guarantee. Simply put, if you are dissatisfied with your floors, we will fix any issues or replace your floors at no extra cost to you. Enhance your surface areas with smooth and level flooring by letting us do the work for you.
Contact us today and breathe new life into your home interior with our laminate flooring. We proudly serve the communities of Wenatchee, East Wenatchee, Chelan, Cashmere, and Leavenworth, Washington.