Your Home for Premium Vinyl Flooring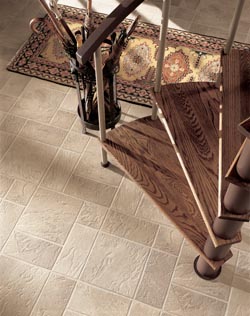 Revive your rooms with new vinyl floors. The Floor Factory features a wide selection of beautiful flooring products, such as hardwood and premium, stylish vinyl flooring in Wenatchee, WA. It's so easy to improve, or even completely change, the look of your rooms with our floors. Even if all you have is a general idea of what you want, we invite you to stop by our store. Our experienced and courteous staff members are ready to assist you with your project. Once you've selected your floors, we even provide vinyl flooring installation to ensure exceptional results.
We pride ourselves in being the top source for premium flooring throughout the area. Throughout our showroom, you'll find the latest styles in vinyl tile flooring from trusted manufacturers in the industry.


Discover Endless Choices with Vinyl Tile Flooring
Due to the modern fabrication methods used by manufacturers, vinyl flooring comes in nearly limitless designs and patterns -- from basic to elegant. Whether you want vinyl sheet, tile, or plank flooring, you'll discover all varieties at our showroom. Let us create a whole new look for your home. Vinyl gives you the ability to choose the precise style you want. Using an advanced embossing technique, these types of floors simulate the look of real wood, tile, or stone. Best of all, you can place them in any room -- even your kitchen and bathroom.


Easy Maintenance with Sheet Flooring
After a busy day at work or running errands, you don't want to spend time cleaning your floors. These resilient flooring types are so easy to keep in beautiful condition. Our vinyl sheet flooring creates a beautiful, stylish, and smooth surface. Maintaining its appearance is as simple as performing occasional sweeping and mopping. Because vinyl is smooth with no creases and grooves, it doesn't collect or absorb particles like dust and grime. In addition, these flooring products are scratch resistant and very durable.


Exceptional Vinyl Flooring Installation
After selecting the perfect floor for your home or business, allow us to provide vinyl flooring installation. Our trained professionals work quickly to place your new floor without missing a detail. There's never a misaligned piece, air bubbles, or other problems once we are finished. You can rest assured that your floor is in great hands when you rely on us.



Contact us to learn more about our excellent selection of vinyl floors. We proudly serve clients throughout Wenatchee, WA, and the surrounding areas.